Today's Kitchen Store
Today's Kitchen Store is a gourmet kitchenware boutique located in Wooster, Ohio. It provides an upscale source for quality specialty products used in the kitchen during food preparation and delivery to the food enthusiast's dinner table.
The TKS Brand
Today's Kitchen Store needed a brand to speak to food enthusiasts – warm and inviting, clean and urban-sophisticated.
Competing with Big Brands
from a Small Store in Wooster, Ohio
Today's Kitchen Store first approached us in 2010 to design their brand and their Web site. Over time, the importance of eCommerce in conjunction with their store became clear, and we assisted them with their initial foray into that space.
During the last couple of years new challenges arose. One in particular called for Today's Kitchen Store to prioritize and evolve its online marketing efforts; big brands began to sell direct to consumers through their own online stores, making it more difficult for small stores to compete.
Cheryl and Rick at Today's Kitchen Store came to us with a set of challenges which can be surmised as:
How do we compete with big brands from a small store in Wooster, OH?
"…our experience [with Studio1337] was both educational and insightful and resulted in an exciting image and well-received Website for our new business."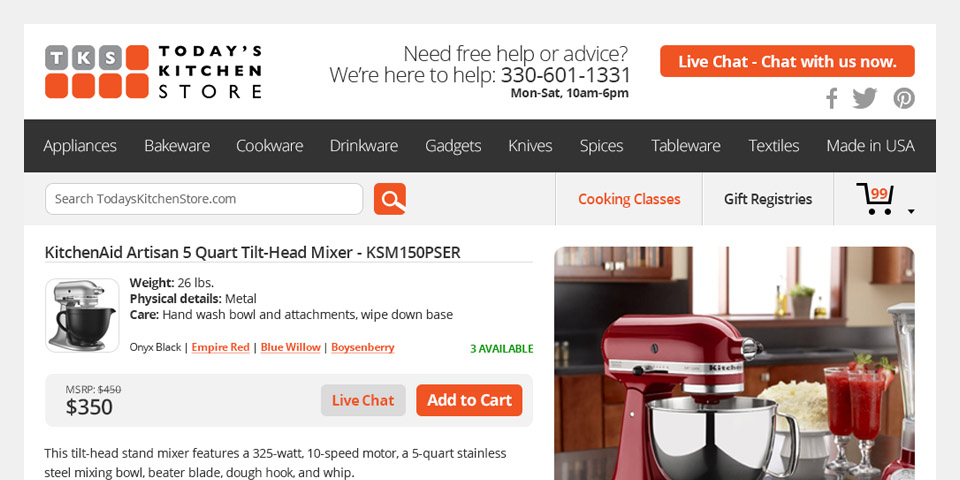 "Although I understood from the beginning that Studio1337 had developed some impressive Web sites, I was particularly impressed with their understanding of the critical success factors and commitment to our targets. As a professional IT Project Manager myself, I know that for them to accomplish so successfully what we needed on time and as expected required a well-managed collection of truly experienced and talented professionals. For my money and time, these are the folks to sign up with."
Cheryl Davis, Today's Kitchen Store